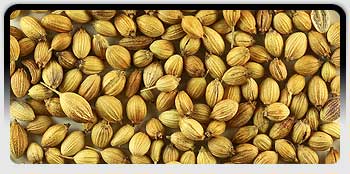 Coriander seeds when crushed have a lemony citrus flavor and are nutty, spicy and orange-flavored. Coriander is used for general digestive aid.
Coriander seeds in India (Dhania) are mainly used in curries and garam masalas.
Coriander seeds are used as Dhana Dal which is very famous in India usually consumed after meals and it is also eaten as snack. It is also a key ingredient in the South Indian cuisines for dishes like sambhar and rasam.